Windyhill is an important building in the Mackintosh oeuvre.  It is his prototype domestic model later seen at the internationally significant 'The Hill House'.
Today, Windyhill enjoys enduring appeal due to its significance in the chronology of Mackintosh's architectural portfolio.  It continues to function as a dwelling house and therefore requires to, at times, adapt sympathetically to changing requirements for 21st century living.
As such, it is proposed that c.1980's non-original and unsympathetic car-port  will be removed to make way for a new motor garage to serve the house.
It has been an integral process to observe and analyse Mackintosh's design intentions and possible narratives for the house to provide cues for the new motor garage at Windyhill. Ideas of the transformation of seed, bud and flourish are principal motives behind the new structure.
The new structure, broadly, features a masonry 'pot' set into the ground and matching adjacent boundary wall heights.  This 'pot' supports a 'growth' like steel structure, its outline visible from outside in a ribbed arrangement.  The volume is then enclosed with translucent glass – another quotation used by Mackintosh in Windyhill.
The combined effect is that of transformation and variation.  Transformation from one state to another within elements of the design, and variation by the play of natural and artificial light on the structure.  Cars parked in the garage will appear with an apparition like quality, and as the sunlight subsides the building will gently radiate like a lantern in the landscape in harmony with the candelabrum of the main staircase of Windyhill.
Furthermore, the new structure is modelled lower than the present car-port and hence sits more comfortably in context of Windyhill house.  Through its material qualities, the replacement structure will allow for light to permeate from the garden to the street and vice versa, which will offer a more dynamic and delicate presence in the setting of Windyhill.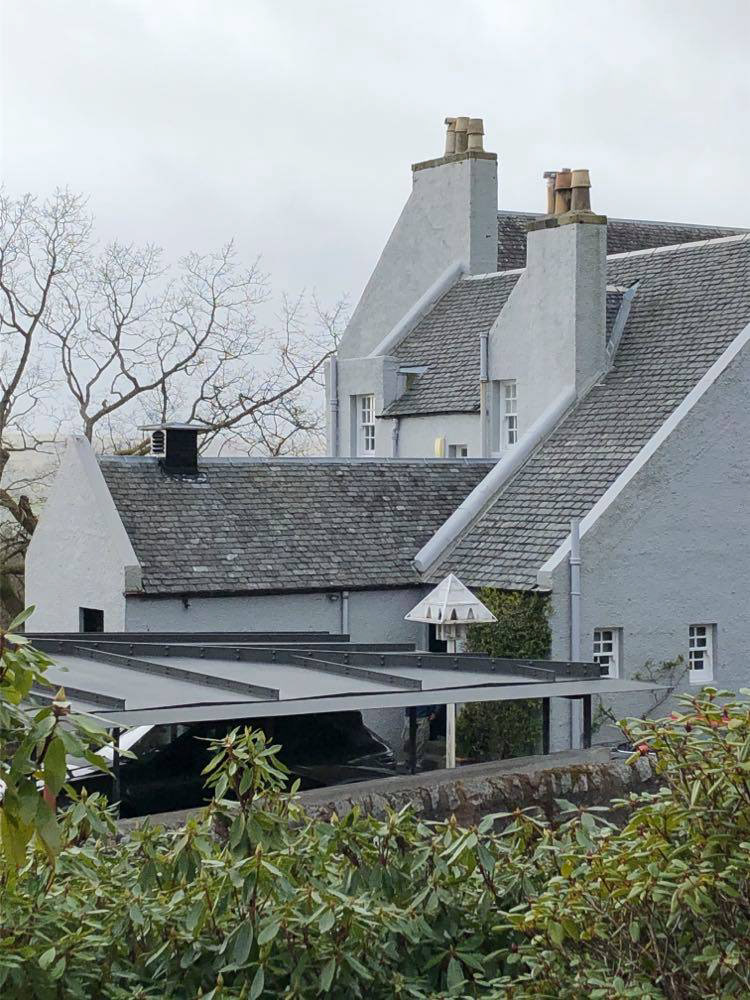 The replacement structure is complimented with a masonry undulating retaining bench, set into a node of topography in the garden.  This structure shares the same construction technology of the replacement garage, but metaphorically extends the narrative of the cycles of nature across the site.  It is proposed to plant the flowers that Mackintosh painted around this bench, making it an open book of Mackintosh's fascination with nature.
The proposed design it offers an exciting opportunity to enhance the existing site conditions at Windyhill, and offer a building which has a meaningful dialogue with Charles Rennie Mackintosh's Windyhill.
​​​​​​​